Welcome to Autour Des Vignes
Mario & Els welcome you to their bed and breakfast (B&B) with 5 comfortably furnished rooms, each with its own private bathroom.
Located in La Coudrée 18140 Herry, in the beautiful countryside just next to a side canal of the Loire.
Close to the wineries of Sancerre and Pouilly, where you can taste the wines at the local estates.
Our holiday home is located about half an hour from Nevers.
In the beautiful garden on 6000 m² you can enjoy a peaceful time under the trees, with a view of the canal on which the pleasure boats sail.
On a sunny day you can find refreshment in the pool.
This bed and breakfast is the ideal starting point for walking and cycling, with the possibility of casting your reel in the canal (subject to permit purchase).
"Each morning, with great care, we prepare an extensive breakfast for our guests"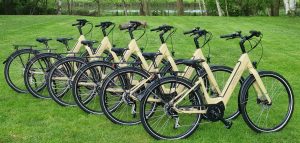 RENTAL BIKES
Rental of electric bikes, made by Marcel Kint in Courtrai, where our roots are.
They are equipped with a powerful, central Brose 90nm motor with 500Wh battery. Mapped out
bike paths are available with GPS.
Please mention rental bikes with your reservation.
Rental Price : 25 EUR/day/pp
"A relaxing stay in the middle of the beautiful countryside, to find inner peace and recharge your batteries!"
MARIO & ELS, PROPRIÉTAIRES